His Holiness the Dalai Lama of Integration-
Pulling a rabbit out of his hat again.
What am I on? My bike.
All Good PPL(Your Move)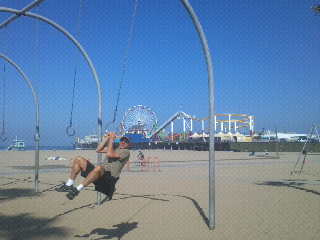 Monkeying around -
Homage to the Lord of the Rings
I biked past Chess Park, where (Pre-September 11th), my buddy Bicycle Pete PBUH who lived in his van, frequented, along with the Old Radicals- John Demjanjuk look-alike- "Swiss" Pierre, the kindly Grandfather with that Nazi past, who sat all day under his rainbow umbrella giving chess "lessons" for a $1 a game;
Hired Gun for the RAND corporation Irwin, who was busy living happily ever after; Grandmaster of The Caro Cann Defense- e4 c6-Mark Rosenberg, who had no visible means of support, and was the self-proclaimed King of Chess Park, a Barney Fife public safety officer with his trademark straw hat and bright Hawaiian shirts, who got The Urinator-one of the "houseless" ticketed for trespassing and publicly peeing at the park on more than one occasion.
1991 With Pierre
In fact Mark value-added on
the current design
of Chess Park
(see phto on left)
; and Persian Architect Isaac the "Lord of The Rings". I took a victory lap for the Shah of L.A.
(see above right).

Houston ,We have a Bunny!
All of these guys-as shallow and pedantic we may have been ---used to pontificate about ...renaming Santa Monica
Ho Chi Minh City
,' and complain and kibitz about— the conservatives, the landlords, the developers, the busy people.
Life Guard and Pope Of Greenwich Village with his SP50 Zinc oxide sunscreen on his recently basel cell scrapped nose-Dave, settled on
The Peoples Republic of...
Yes, it had an-all-you-can-eat Smörgåsbord of Big Sur, NY Soho and Beverly Hills-by-the-sea, run by the Green Party and new age ethos Woodstock Generation
( ultra-wealthy aging hippies, environmentalists and socialists)
all wrapped up in one.
There's a little more
status
and a lot more
quo
these days--and all the Old Radicals are nowhere to be seen. 3 days ago, actor Donald Sutherland hit a bicyclist. I wonder if it was Pete?